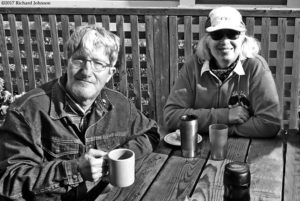 High Country Celtic Radio focuses on the traditional, acoustic music of Ireland, Scotland, Wales, Brittany, Northern Spain, and the Isle of Man, played by musicians from around the world. Although produced in northwestern Nevada at the foot of the Sierra Nevada, HCCR brings the lush, vibrant colors of traditional Celtic music to listeners in the high desert and beyond.
HIgh Country Celtic Radio originated in 2018 at KNVC, 95.1 FM, in Carson City, Nevada, as a one-hour weekly show. The hosts, Katie Marie and Joe Bly, work in emergency medical services and are musicians playing traditional Irish, Scottish, and Breton music in the Carson region. Katie plays the guitar and button box, and Joe plays the flute.
"FairPlé Score" ?
Listeners have asked us about the "FairPlé Score" that we assign each show. You can find our FairPlé score at the bottom of our show descriptions in our episode archive.
FairPlé is a group that originated in Ireland when Karan Casey looked around a festival stage and realized that she was the only woman on stage out of almost 20 men. She formed a group of like-minded women performers to address the issue of women not getting equal stage time as the men in spite of there being more women learning tradional Irish music. As Niamh Parsons told High Country Celtic Radio in a 2018 interview, "More girls than boys are learning traditional Irish music, but more boys are appearing on stage." This applies not only to trad Celtic music, but across most musical genres worldwide. Festival promoters, record labels, and broadcasters all share responsibility to ensure that skilled women musicians get their equal time on stage and airplay.
So, we took it upon ourselves to grade our weekly episodes. Our self-assigned FairPlé Score shows how many artists in each week's show are women-dominated or groups with women being close to half or more of the members. We aim for a score of around 40 to 60 out of 100, since it's an issue of equal airplay. We do air all-woman shows every couple of months where our FairPlé score reaches 100. As Katie says, "It's only fair."